Welcome to our Transformation Roadmap, a ground-breaking program designed to empower leaders, executives, entrepreneurs, and individuals like you to achieve peak performance and exceptional outcomes. Are you ready to embark on a transformative journey that will alter the course of your results and unlock your full potential for success?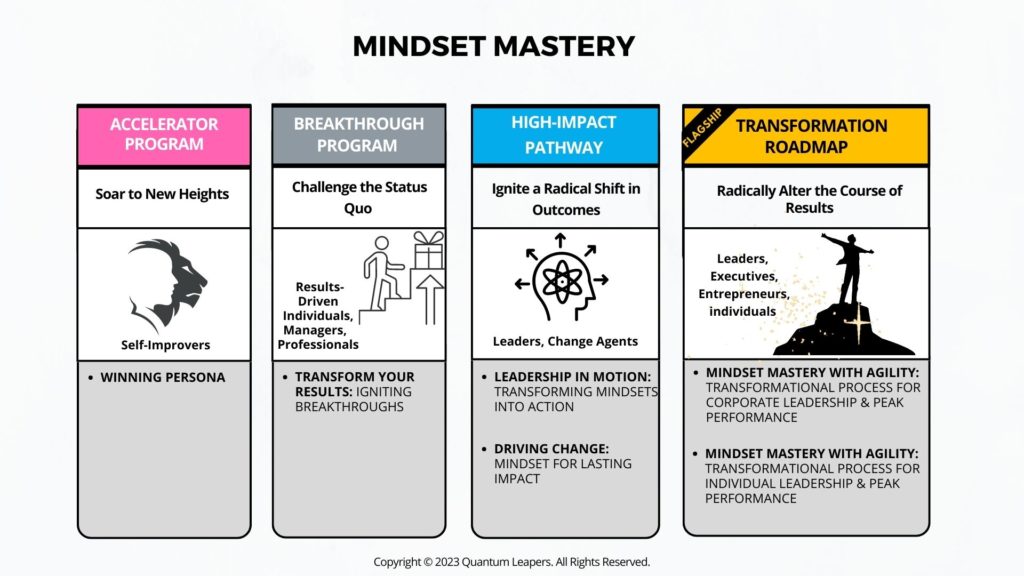 Mindset Mastery: Unleashing Your Inner Power
At the core of our program lies the concept of Mindset Mastery – the art of harnessing the immense power of your mind to achieve greatness. We believe that true transformation begins with your mindset. By cultivating a growth-oriented and resilient mindset, you can navigate through any challenges and seize opportunities with unwavering confidence.
Embrace Agility: Thriving in Complexity
In today's fast-paced and ever-changing world, agility is a key determinant of success. Our program will equip you with the tools and techniques to adapt swiftly to complex situations, allowing you to make well-informed decisions even in the face of uncertainty. Embracing agility will enable you to stay ahead of the curve, whether in your personal or professional life.
A Tailored Journey for Leaders and Entrepreneurs
Our immersive 8-month journey is carefully designed to cater to the unique needs of corporate leaders, executives, and entrepreneurs. We understand the challenges you face and the aspirations you hold. That's why our program provides you with the specialised skills and strategies to enhance your leadership capabilities and drive peak performance.
Comprehensive and Immersive Learning
Our program takes a comprehensive approach to ensure your growth and success. We cover various aspects, including leadership development, peak performance techniques, and mindset transformation. Through engaging exercises and real-world simulations, you will experience immediate application of your learnings, fostering tangible growth throughout the journey.
Strategic Repetition for Long-Term Impact
We understand that true mastery requires time and practice. That's why our program incorporates strategic repetition – a proven method for long-term retention and application. By revisiting key concepts and learning opportunities, you'll solidify your knowledge and embed new habits that will drive consistent success.
A Winning Formula for Lasting Results
Our Transformation Roadmap follows a repeatable winning formula based on effective techniques, strategies, and best practices. This formula has been honed through years of experience, and it forms the backbone of our program, guiding you towards sustainable success in both your personal and professional life.
Accountability for Your Growth
We are committed to your growth and success, which is why our program includes a comprehensive accountability package. Through progress tracking, goal setting, and regular check-ins, we keep you on track and motivated. Our support systems ensure that you never feel alone on your transformative journey.
Are you ready to realise your full potential and achieve exceptional results? Join us on this transformative 8-month journey towards mindset mastery and agility. Embrace the power within you, and let's embark on this life-changing adventure together.